Today is Underground Day. This type of transport is still the most reliable and popular in the whole world.
The world's first subway was launched in London on January 10, 1863, and almost three decades it serviced locomotives which, among other things, for a long time did not want to give way to their "electric brothers". It was built by "Metropolitan Railway" and its length was 3.6 km.
The world's largest metro systems are:
New York City Subway, NYC, United States – 421 stations
– The famous subway of NYC has the largest number of stations in the world. Opened in 1904, it's also one of the oldest (the 8th oldest to be exact). The
NYC subway
has a total length of 373 km (232 mi) – that's the 4th in the world, and a whooping 1.7 billion riders as to 2013.
Shanghai Metro, Shanghai, China – 263 stations
– Shanghai Metro is only the 6th where it comes to number of stations, but it has the longest length in the world – 538 km ! Considering it only opened in 1993, this is truly an achievement! Shanghai Metro is also one of the busiest systems in the world with over 2.5 billion riders each year.
London Underground ("The Tube"), London, England – 270 stations
– The famous London Tube first opened as an "underground railway" in 1863, but the first electric line opened in 1890 making it the world's very first
metro system
. It's also the third longest system with 402 km and more than 1.2 billion users each year.
In Ukraine this kind of transport appeared in 1960 in Kyiv
And this is the Kharkiv underground next to my University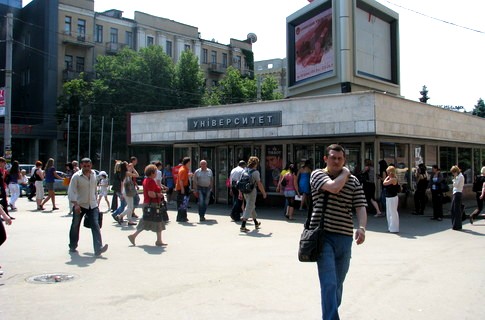 I want to share with you some information about London tube because it's the oldest underground in the world.
Have you ever wanted to drive a tube train? So why not?